Worakls features Hans Zimmer's first violin in his new piece « Storm ».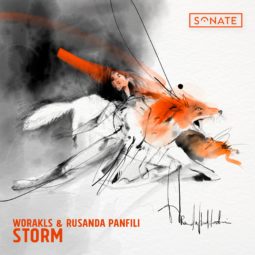 Worakls unveils his new electro/classical composition on his own label Sonate. Accompanied by the incredible violinist Rusanda Panfili, Worakls composed this one melting in two worlds and genres, for the pleasure of a wide array of music lovers.
It is impossible to restrain the tangible emotions of this hybrid piece that tickles the senses, and will inhabit you with a furious need to let go. For this « Storm » carries off everything in its path. The track's energy is powerful, moving and addictive, and flies the listener through a tornado of perfectly intricated inspirations.
Time to mute everything around you, turn the volume up, and close your eyes…
"This track is the best proof that making music has no borders or limits; we composed, produced and recorded "Storm" during the lockdown, so we were unable to travel or work in person. Most of our creative sessions were done through video chat and by sending files back and forth which was a big challenge but also fun. I have always wanted to compose an electronic/instrumental track and working with Kevin was incredibly inspiring." Rusanda Panfili
«Storm is a piece that Rusanda and I composed, as its title indicates, imagining a tempest that we would be going through. From the thundering black clouds to the late arrival of the sun, the purpose of this track is to transcribe the different steps as if we weren't able to find shelter and were forced to live through it. We collaborated for months, always from distance as the current context dictates. She was in Vienna (Austria), I was in Aix-en-Provence, and we ended up with this track that we really hope to be able to play together someday." Worakls