Aalson is closing out the year with a spellbinding two-tracker entitled "Failure".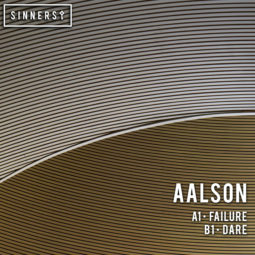 The Frenchman has continuously worked on his craft in the past months and used the downtime from touring extensively in the studio.
Two of the results can be heard on this Sinners release.
"The idea behind this release is that failure often has a positive outcome for the development of something or someone. That it's the best way to understand your actions and to distinguish the bad from the good. Through self-analysis, our failures always allow us to apprehend what didn't work and why it didn't. That's why the best way to overcome failure is to dare…" Aalson
The title track "Failure" is a slow-burning, constantly morphing melodic techno composition, which features teasing arpeggios, haunting chords and synthesised layers to get lost within. The track is powered by snappy hats and hefty low frequencies.
The second track "Dare" starts off with a sleek broken beat, before it turns into a ferocious dancefloor beast. Mysterious soundscapes sit atop a roaring groove and a marching bassline. Aalson is a master of the synthesiser and his music is outer worldly and captivating at the same time. Dive in!