After a first collaboration with Hugo Clément on the score of documentary "Sur le front des animaux menacés", Worakls composes the score of the journalist's new investigation piece "Sur le front des forêts françaises".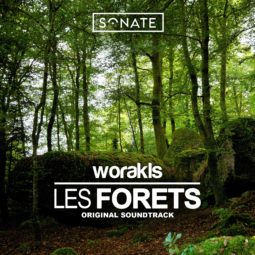 The five tracks of this new score will be revealed on March 21st, at the airing date of the film of French national TV France 2.
About the documentary
Most of us go there to recharge. The forests have fully played out their role when lockdowns periods ended. They also are our best shield against global warming. Yet activists have to act everywhere around France to reveal to the public the devastating effects of the industry on French forests. It's easy to imagine that those are doing well since the national forest area keeps growing, but this reality is treacherous: it's only due to the plantations controlled by the same industrials responsible for its destruction.
"Hugo told me about the documentary's theme and I immediately felt concerned, and wanted to play a role in this project. I actually started composing without any images yet my interpretation perfectly fitted Hugo's vision and we were immediately on the same page." Worakls
This time, Worakls gathered a few of the musicians from his Orchestra tour to help with the recording of these new tracks. Fred Ladame recorded the violin, Zoltan Szanto played the viola, and longtime collaborator Antonin Winter brought his cello along. Worakls also invited Rusanda Panfili, Hans Zimmer's first soloist, on the composition of this soundtrack. This new EP will come out on Worakls' label 'Sonate', where he can fully explore his inspirations, following up after latest single "Storm", released with Rusanda Panfili as well.