The mysterious Wojmann returns to Sinners with yet another enthral two-tracker.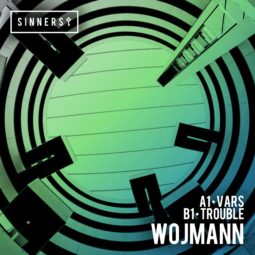 After "The Girl Who Found Me", which was released in the dark month of November in 2020, he continues his journey into mesmerising sounds with this latest outing Vars/Trouble.
''Since I woke up and met the girl who found me, I'm trying as best as I can to stick the pieces of my past back together. "Vars" tells the story, I think, of I dream that I had. Was it a dream, a memory ? I can't remember clearly, every part of it is vague. I can barely remember a cottage on the flank of a snowy mountain. In this lodge I'm not alone, several people are there. But who are they really ? All of their faces are familiar and I feel like I have known them for ages. I can remember us laughing, dancing together, and only in this intangible memory I can feel at peace''. Wojmann
Starting off with "Vars", which is spacious techno track that's assembled on a strong foundation, consisting of powerful sub-frequencies and a precise kick and bassline. The slow-building composition takes you on an exciting trip through a beautiful landscape of gorgeously synthesised sounds.
On the flip side resides "Trouble", which features a more laidback approach and melancholic vibe. Delay-effect drenched soundscapes free float above a rumbling bassline and Intriguing keys lead the way forward.