Hungry Music is excited to present the third outing of remix releases celebrating the second anniversary of Worakls' groundbreaking 2019 "Orchestra" album.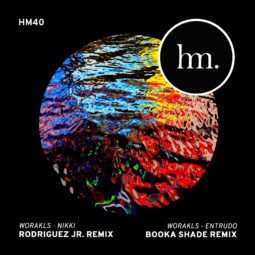 Succeeding dazzling remixes by Ben Böhmer, Mark Höffen and Patrice Bäumel, which have been released in the last couple of months and became instant fan favourites – Worakls has now invited Rodriguez Jr. and Booka Shade to present their interpretations!
Rodriguez Jr. kicks off proceedings with a mesmerising, bass heavy groove before breaking the track down into the original's breathtaking dramaturgy. He managed to preserve Nikki's soul and morph it into an electronic music adventure that carries you deeper into the dancefloor.
"I am stoked I finally get to do something with Worakls as I have so much respect for his music. We share many things in common: the never ending quest of the perfect melody, the classical background and we are both deeply rooted in sunny South of France. Remixing "Nikki" was a exciting challenge, trying to give a different perspective to the lush original layers of strings, and I hope we will have more opportunities to collaborate in the near future." Rodriguez Jr.
Booka Shade are keeping the intensity high with a throbbing bassline and echoing synth layers that are locking in around a dynamic groove. Entrudo's main elements take center stage throughout the breaks, providing the prefect tension before blissfully arpeggiated sounds fill the room with rapture.
"We love France and spend a lot of time there. On one occasion a mutual friend introduced us to Worakls. Loving his orchestral arrangements and sounds, we agreed to do a remix for his song' Entrudo'". Booka Shade