Worakls releases second electro-classical single on his new label Sonate.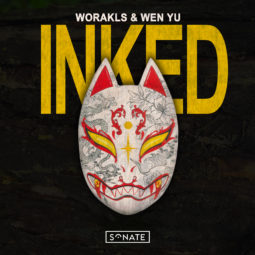 Accompanied by talented composer Wen Yu, he proposes a track that mixes in electronic music with traditional asian acoustic instruments.
As usual, Worakls carries us towards a poetic and powerful universe, full of shivers and landscapes that you can envision as soon as the first notes hit. The eclectic sounds of Wen Yu and Worakls melt in perfectly, creating a sensible atmosphere in which time feels like it has frozen. Both delicate and powerful, "Inked" is a true cure for the mood and a gateway to unleash your own imagination and emotions.
"I always loved to mix genres and cultures in my music. One of the piece from my album Orchestra, "By the Brook", actually features a few sounds from Asia as well. When I discovered by chance the work of Wen Yu, I instantly felt it was the perfect opportunity to drive the experience even further by creating a piece with her, that would be inspired by our respective cultures." Worakls
"Worakls reached out to me after he listened to one of my songs including a lot of Asian elements and instruments. I was very enthusiastic to work with such a talented producer and it was my first collaboration with an electronic music artist, so I was overall very excited! Working together was a very special and inspiring experience, it felt like communicating and sharing emotions through music.
Worakls inspired me a lot through confidence and positive energy. It really feels like we created something special together, and found a common ground of emotions in between many different genres and inspirations. I had experienced recording live instruments before but this was something else, it was impressive to see how organic Chinese instruments can combine with electronic music so well, bringing character and emotions to the powerful electronic structure of the track." Wen Yu
About the cover artwork :
With Sonate, Worakls wants to give a certain dimension to his music, and not only through mixing in diverse musical genres. For each of the French label's release, Worakls invites a visual artist to join the project and create a special visual work. For « Inked », Worakls invited talented tattoo artist Camille. Her interpretation of the track is as sublimed as it is inspired.
"The title "Inked" and the idea of a tattoo art fitted perfectly from the start, and when we discovered the work and vision of Camille, we instantly felt the perfect match that this could be. In the end we're so happy with how she captured the music into her art."  Worakls