The Amsterdam based artist has built up a fine collection of timeless music on the imprint that now sees the addition of two more superb compositions.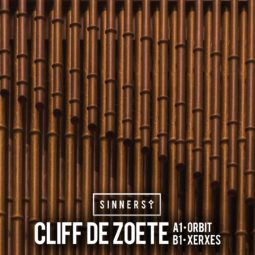 Orbit opens up with with a slow building groove and dry hits. It morphs and builds as more layers of breathtaking pads are added and the bassline injects extra pressure underneath. The reverb drenched synths get you locked in and put you in that late night atmosphere we all love so very much.
''Orbit is a track build around multiple arpeggiated melodies. The Moog bassline and lead are talking to each other throughout the track. In the break it feels like you are ascending through the atmosphere. First slowly and then speeding up to finally break through at the climax to reach Orbit.'' Cliff de Zoete
The powerful analog bass of the second track Xerxes drives the energy, while exhilarated melodic patterns create excitement. In the second quarter a mysterious lead melody creeps up and takes things to another level. The track erupts in euphoria every time it reaches another one if its many peak moments.
''Xerxes is a mysterious track about the king of Persia. The syncopated bassline keeps the track moving as if It's an army marching towards battle. After that ominous sounding lead further adds to the tension and is fully released after the main break. The percussion further adds to the theme, almost sounding like war drums." Cliff de Zoete