The waiting period is coming to an end ! Three years after his successful first tour, the Worakls Orchestra Tour 2022 will meet again its public on September the 23rd. This year, Worakls will rock his new show in no less than 16 European cities, including 5 unique dates in France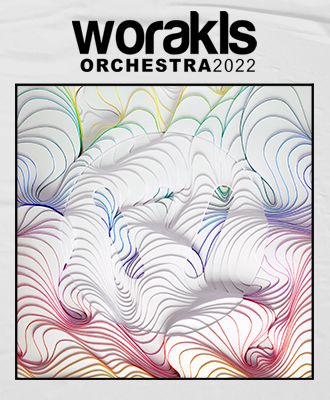 After the sudden cancellation of the last dates during the first tour because of the pandemic, Worakls took advantage of that period to renew and rethink his project. This year, the confirmed (by the French National Center of Music) gold record artist for his track "Salzburg" will be joined on stage by 16 classical musicians, 5 soloists and 2 singers, including Antonin Winter and Zoltan Szanto who has been accompanying him since his first Orchestra in Marseille back in 2015. Esther Abrami – winner of the "Art of Strings" concert series of the Arts of Instrument Performance -, Lore Jarocinski – professional guitarist who built her career in London over the years -, and Nozomi Hiwatashi – prizewinner of the London Classical Music Competition, Percussions category – will bring you thrills on a whole new level respectively at the violin, guitar and percussions.
Paired with the already powerful instrumentals, Laure Poissonnier – strong of her experience as a Soprano at Paris' National Opera, and Lili Poe – who has been collaborating with Disiz La Peste, Soprano, Slimane and Jok'Air (french famous artists), will be adding a divine finishing touch to the project. Spurred by the success of his first Orchestra album and the eponym first tour, which in only a year managed to fulfil Europe's most prestigious venues and to gather almost 100.000 attendees across the continent, Worakls decided to rework his show to perfect his vision. During the upcoming tour starting on the 23rd of September in Lyon, the mastermind behind all this who desires to introduce his show in the entire world starting next year hopes to keep his momentum and the already sold out dates in Amsterdam and Budapest won't refute it.
"A bigger and mightier show" – Worakls
After releasing his singles Hiba, Pipeline, 54 and his noteworthy appearance at ZEvent 2022 allowing him to collect 20.000 euros for charities, Worakls is back on track for a new revisited journey aiming to unveil his new creation. A 2.0 version of the Worakls Orchestra, with new musicians filled with nothing but talents, a magnificent set design and lights, and exclusive new tracks ! Tickets owners will get the chance to live and feel the new singles of his upcoming album (e.t.a end of the year, editor's note) the 23rd of September in Lyon (Halle Tony Garnier), the 24th of September in Paris (Zénith Paris La Villette), the 15th of October in Nantes (Zénith Nantes Métropole), the 28th of October in Montpellier (Zénih Sud) and the 29th of October in Marseille (Le Dôme). The Worakls Orchestra experience is first and foremost a concert that is to be listened to with your eyes.