French composer creates new label « Sonate » and teases first pieces, composed for a documentary about endangered species. Debut album to be released on July, 31st of 2020.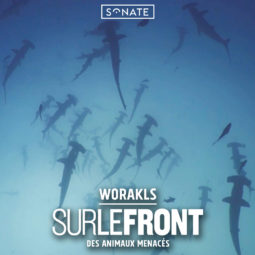 After over 10 years of waiting, Worakls delivered his first solo album « Orchestra » in march of 2019, followed by an international tour from Paris to New York through Tbilissi (Georgia). Either accompanied by his Orchestra or alone on stage, the venues are always sold out.
After his first album, things accelerated for Worakls, contacted by several soundtrack projects for movies and video games alike. He soon ends up working with famous French reporter Hugo Clément, composing for him the soundtrack of his documentary « Sur le front des animaux menacés », released on national TV chanel in June.
Sonate, a logical next step.                      
« To mix in two worlds, the emotions of classical music with the freedom and energy of electronic music. I thought it would be an end in itself, but it was a new beginning above all ».
Worakls, march of 2019, about his first album « Orchestra »
After Orchestra (released on Hungry Music) and his experiences as a soundtrack composer, Worakls decides to go even further in his inspirations and create his own label : Sonate.
The origins of the word describes a literally « sounding » music. Designed for one or two instruments, this format developed along classical music History until it took larger dimensions through the symphony format.
A word that perfectly fits the career of the artist who began by producing his music alone, and today involves a multitude of instruments in his pieces.With Sonate, Worakls is writing the first notes of his future in a career that will end up being both symphonic and brilliant.
The first label release will be the original soundtrack of French documentary « Sur le front des animaux menacés », as an eponymous album. This time, Worakls invited his cello player and friend Antonin Winter, as well as Gan-ya Ben-gur Akselrod and Rusanda Panfili, the classical singer and first violin of Hans Zimmer, and famous violinist Esther Abrami.