The french duo signed lonely love song « Made Of Gold » onto Bakermat's label Big Top Amsterdam.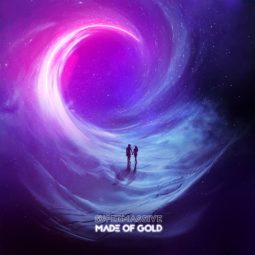 The composers met in 2013 while studying at Montpellier's film music school. Simon specializes in hardware machines as well as live controllers while Edgar focuses on the instrumental part andthe melodic aspect of composing.
After collaborating during several years, theynally decided to unite forces in 2018 throughthe creation of the Supermassive project. Mixing in diverse in uences from electronic musicto indie rock, pop, or even classical music, they quickly figured out their own musical color and discovered an impressive complementarity. Debut electro pop release « The One » was released on Bakermat's label « Big Top Amsterdam » and offered to Supermassive their first international success.
After two more releases on their self created label Rose Music (« Reason » & « One Night Stand »), Edgar & Simon are back on Big Top Amsterdam with a sensible and melodic piece, showcasing both acoustic and electronic elements.
« Made Of Gold » reflects the artists' state of mind at the time of creation, as they explain :
« It's a piece that I started composing at night, during a flight home. The following evening, I called Simon for him to come and listen to it, and we ended up finishing the whole track that night ». Edgar
The song is mainly about escaping, but it's also a love story. The main character went far away (« Through the winter's cold, I'll walk that miles ») but realized that the only piece missing is the one he left behind : his love story that he ends up coming back for.
On a futuristic, or even stellar note, the electronic elements blend in with the power of acoustic instruments, while the lyrics illustrate this journey back home that the main fictional character will take. Once again, Supermassive delivers a touching song, full of optimism and authenticity.