Oceanfest the charity festival for Sea Sheperd: The association Blue Force, co-founded by Hugo Clément and the artist Worakls, presents the first edition of its flagship event, bringing together actors and citizens of the French Basque Country around a common ecological commitment. All funds raised during the event will be donated the charity association Sea Sheperd.
Last December, the activist journalist Hugo Clément and the electronic artist Worakls announced the creation of Oceanfest, the charity festival for Sea Sheperd, which advocates for the preservation of the oceans and the biodiversity they preserve. They both founded the Blue Force association to launch this event that mixes local anchoring, entertainment, and eco-responsible commitment.
All tickets were sold out less than 24 hours after the festival was announced, which will take place in Biarritz on Friday, March 31, 2023, from 6 pm to 2 am (at Halle d'Iraty). The enthusiasm for this special evening is explained by the public utility it provides and thanks to its 100% french electro line-up: Mosimann, Polo & Pan, Silly Boy Blue, Synapson, The Avener, Vitalic, and Worakls. All of them agreed to perform voluntarily to raise public awareness of the causes and values defended by Oceanfest.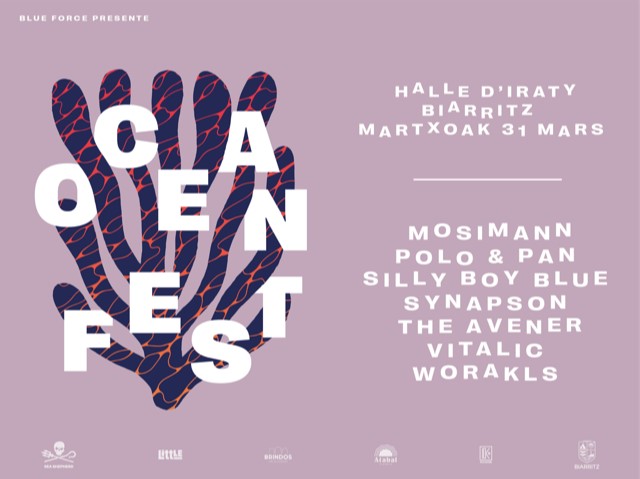 Local and committed actors will provide public transport, food, beverages, and waste treatment. The festival also aims to support the local economy and committed actors. Oceanfest the charity festival for Sea Sheperd since 1977, the non-governmental organization Sea Shepherd has been one of the most active defenders of the oceans and seabed in terms of prevention and real actions.
If you wish to participate in the event as a volunteer, it's possible! You can help with the setup, teardown, public reception, ticket scanning, green brigade… by registering via the form by clicking here. Also, be careful of fraudulent ticket sales. As the event is sold out, you can turn to official resales via TicketSwap, don't hesitate to set up an alert to be notified.