SINNERS is entering the dark phase of the year with yet another wall shaking outing. The latest release comes from Cliff de Zoete and is entitled "Spacesuit Required".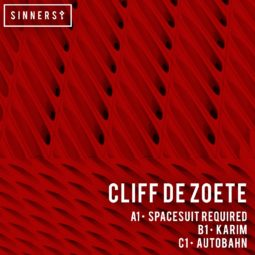 When Cliff wrote the title track "Spacesuit Required" he imagined himself aboard a space station ready to embark on a space walk and into the vastness of space. The enormous gritty bass lead combined with the heavy hitting groove provide the prefect backdrop for such an endeavor.
Next up is "Karim" a slow burning, bass heavy beast! Named after a cheeky and bold little mouse that used to reside in Cliff's apartment. The playful yet powerful composition is sure to take the roof off any dancefloor, once clubs are ready to reopen!
If you ever get the chance to ride on the German Autobahn in the middle of the night. "Autobahn" is your soundtrack! Arpeggiated melodies and the intense bassline keep pushing forward while creating a mesmerizing sense of high-speed!