Aalson is coming back to the Sinners imprint on April 17th with 'Last One', a track composed alongside Minorah ; Lyon-based DJ and producer whose inspirations gravitate in between his taste for melodic techno, and the classical formation that shaped him as a musician.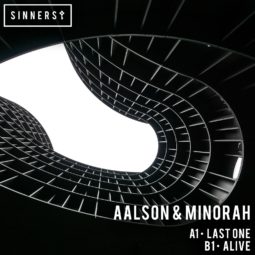 This collab between Aalson (released on Labo T, Sinners, Click Records, or Steyoyoke) and Minorah (Labo T, Grrreat Recording) quickly stood out as obvious. A few words on social networks were enough for both producers to discover common musical ground and a very promising complementarity that led them to compose their first EP and play together on stage just a few days later.
"Minorah is a pianist and I'm a piano lover, we're both fans of Olafur Arnalds, Nils Frahm, or Kiasmos just to name a few. I think we immediately discovered a common music aesthetic, and our friendship followed instantly…" Aalson
« Last One » starts on a post-apocalyptic note with eponymous track in which the duo tells the story of an agonizing man, lone survivor of the end of the world as we know it. Transcribed through the melodic lead, this protagonist keeps struggling against his condition and never surrenders until the very lasts notes of the title. That's when « Alive » appears, the second title completes the EP's moods & emotions to a full extent with thematics of hope, and rebuilding.
In this EP oscillating in between techno and melodic, Aalson gives us one more epic production, perfectly in range with the dark yet dreamy genre defended by Sinners over the last few years.